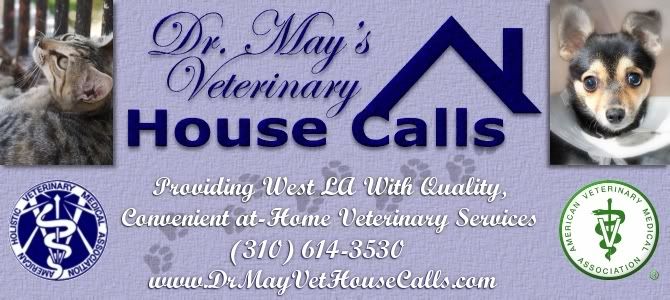 Is your pet feeling sick or lethargic? Does your cat or dog need vaccines or an annual checkup?

Hi, I'm Dr. May, an animal lover and Holistic Veterinary Doctor. Instead of driving your pet to the vet, I conveniently come to your home and provide personalized care and a more relaxed experience for your pet. As a housecall vet, I am able to do a complete physical examination and consultation, blood tests as needed, as well as routine procedures like vaccinations, deworming, and minor wound treatment. Combining the best of Western and Eastern medicine, I am a practicing veterinary acupuncturist who studuied at the Chi Institute of Chinese Medicine. I can prescribe conventional medication as well as perform acupuncture treatment when appropriate.
Please call me at (310) 614-3530 to schedule an appointment. I offer flexible scheduling including evenings and weekends. I look forward to helping you and your pet.
Dr. May's Veterinary House Calls
~Specializing in Veterinary Acupuncture and Holistic Medicine~
Call Now - (310) 614-3530
http://www.drmayvethousecalls.com

Advantages of At-Home Veterinary Care
No travel stress for pets
No exposure to waiting room diseases
Flexible scheduling - evenings & weekends
Multiple pets cared for in one visit
Professional, individualized care right at home!
Services

Examination/Consultation
Acupuncture
Vaccines, Deworming
Blood/Urine Testing
Needed Injections
Prescriptions
Minor Wound Treatments
Bandage Application
Ear Cleaning
Subcutaneous Fluid Administration
And more

Fees

Housecall fee $50 (if within 15 mile radius of westside)
Initial examination $50
Recheck examination $40
Acupuncture treatment $50

Serving These Areas

Beverly Hills
Brentwood
Culver City
Encino
Hollywood
Malibu
Marina del Rey
Pacific Palisades
Playa del Rey
Reseda
San Fernando Valley
Santa Monica
Sherman Oaks
Studio City
Tarzana
Topanga
Van Nuys
Venice
Woodland Hills
Fees for tests and treatments comparable to most vet clinics

Schedule an Appointment Today!
Dr. May's Veterinary House Calls
Call Now - (310) 614-3530
info@drmayvethousecalls.com
http://www.drmayvethousecalls.com
5 Ways to Minimize Veterinary Costs
Annual Pet Examinations
Give Pets Adequate Exercise
Behavior Evaluation and Training
Keep Toxic Materials Away from Pets (chemicals, household products)
Ask Questions Immediately Upon Concern

Dr. May obtained her Doctor of Veterinary Medicine degree from the University of California, Davis School of Veterinary Medicine in June 2005. She has completed a veterinary acupuncture course through the Chi Institute of Chinese Medicine and is a member of national, state, and local veterinary medical associations as well as the Association of Veterinarians for Animal Rights, the American Animal Hospital Association, and the American Holistic Veterinary Medical Association.

We Care About You and Your Pets!